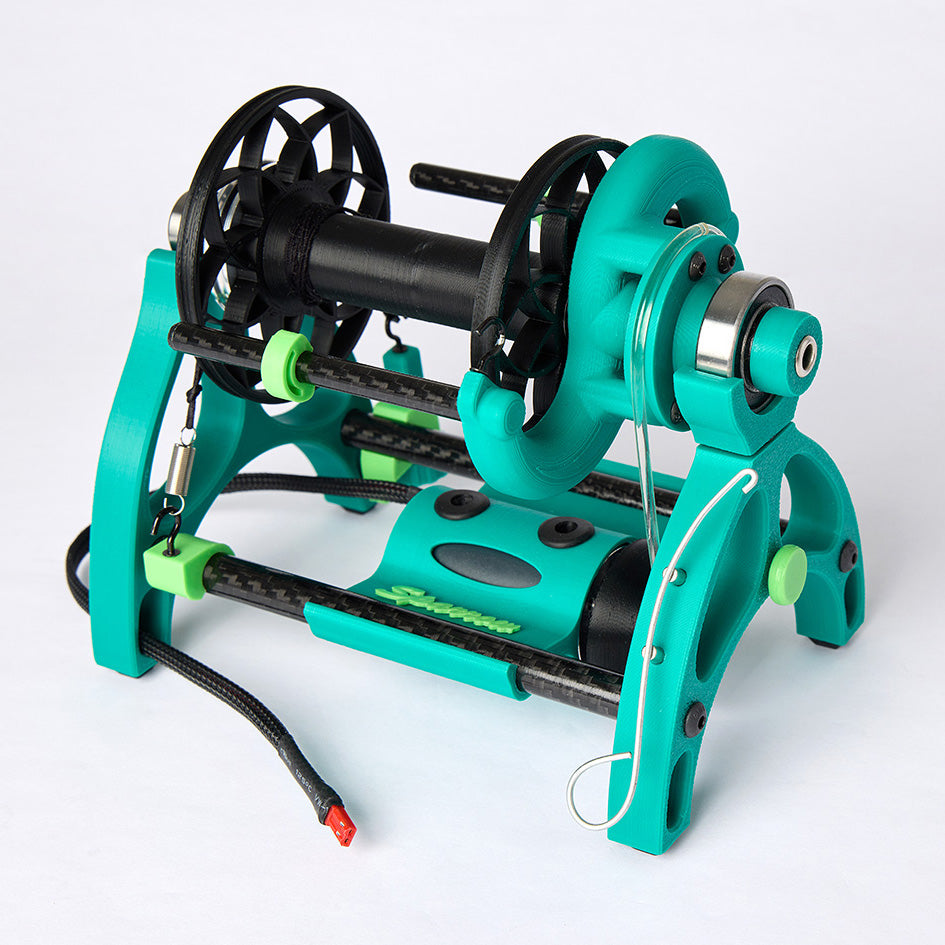 Sparrow
Made from carbon fiber and 3D printed ABS plastic, the Sparrow is a light Scotch or Irish tensioned electric spinning wheel that is optimized for finer weights and higher speeds. Capable of over 2,000 rpm, yet Sparrow is just as comfortable walking and jogging from 300-900 rpm.  Swap from Scotch to Irish quickly, when your project needs the extra take up that Irish offers... or use Scotch to keep tension low for the finest yarns. Its petite size is perfect for travel.
How to Purchase

Sparrows are sold in ready-made batches approximately every eight weeks, in a shop update format. This is the only wheel we sell in this fashion. Due to extremely high demand a queue is not possible, as it would bog down production of the other models as well.




Sparrow Shop Listing

The Sparrows will appear under a listing that will only be available on the Sparrow collection page. To access this page, simply click this link.




High Demand

Sparrows are in high demand so they do sell quickly, but we encourage everyone who would like a Sparrow to try to buy one, and if you don't succeed in this batch, don't worry! There will be another batch soon.

Tips for preparing for a Shop Update

Prep Your Cart

You'll want to ensure that you add any additional items you'd like to purchase to your cart before the shop update. This could include things like a Speed Controller, which is required to operate our wheels. If you already have one of our wheels, you don't need to purchase another controller. You can also add a battery pack and extra packs of bobbins.




Sign In Ahead of Time

For the fastest checkout, you'll want to ensure that you are logged into your PayPal account in advance on the device you'll be using, so you'll be all ready to go. Anything you can do or prepare in advance to help you get through checkout as quickly as possible will improve your chances of scoring a wheel.

Cost Breakdown


Sparrow (without the speed controller) - $500
Speed Controller (A Daedalus Speed Controller or Magpie Speed Controller is required to run the wheel) - $125
Sparrow Bobbin 3 pack (black only) - $75

What's Included with Sparrow

*Sparrow
3 bobbins with aluminum brake drums
orifice hook
Spares Kit (1 rear bearing, 1 rubber grommet, 1 cinch, 1 spring, and rat tail tension cord)
15V DC Power Supply
Manual

​

*Speed Controller is required but must be purchased separately if you do not already have one for a Daedalus E-Spinner. Speed Controllers are $125.
More About Sparrow

To learn more about the Sparrow and to see the manual check the Sparrow page.





Sparrow Instructional Videos

Daedalus Spinning Wheels LLC and Spotted Ewe Fibers LLC will not
be responsible for any damage or injury incurred from using third party
components